This article accompanies the fable
Immortal Beloved

Holy Relics: Beethoven's hair, Beethoven's skull
The medieval fascination with holy relics has persisted into the present, it would seem, but now it can be found at the intersection of art and science. Locks of Beethoven's hair are on display, not in churches but in various educational institutions, at San Jose State University, the Library of Congress in Washington D.C., the University of Hartford in Connecticut, the British Library in London, the Gesellschaft der Musikfreunde in Vienna and the Beethoven-Haus in Bonn. The fragments of his skull are in a private collection. These relics have been passed down through the generations and tested for lead poisoning and they have confirmed that he did indeed suffer from it.
The owner of the skull fragments has claimed that Beethoven hoped that one day his aches and pains (and his grumpy nature) could be explained by science. Therefore, when an exhumation and autopsy was conducted in 1863, the pieces were stored away for decades until science could find out the truth. The verdict is still out on how he could have ingested so much lead (from lead pipes or drinking too much mineral water or swimming in the spas?).
One recent analysis of his hair strands concluded that Beethoven's doctor hastened his death by administering lead to counter fluid in the abdomen, unaware that his liver couldn't handle it.
Whether the lead poisoning caused his deafness in the first place is an open question, but there is no doubt that such holy relics are just another form of fetishism.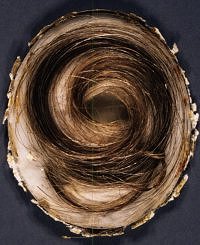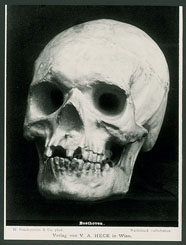 Links: Mary Magdalene's holy relics and Joan of Arc's remains.