This article accompanies the fable
Voices and Saints
The Military Genius of Joan of Arc

Ostensibly a peasant girl from the provinces, she demonstrated superb tactical skills in warfare at Orléans and in subsequent skirmishes and she had an intuitive grasp of how to manage the propaganda war, knowing how and when to threaten the English generals with ultimatums and divine retribution, how to make them feel like invaders, how to make them feel that God had deserted them and, worst of all, how to unnerve them with the thought that they might have to surrender to a woman. Her devoted fighting men called her 'l'Ángélique.' If anyone ever needed proof of her brilliance, read her replies to her inquisitors in Rouen. And she was dead at 19.
Below left is one of the more interesting books on the subject: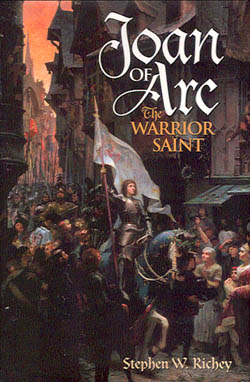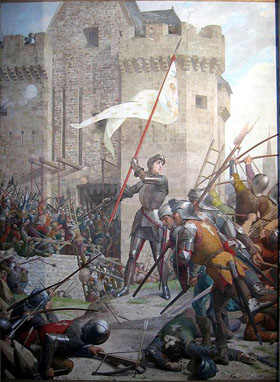 Above right is the similarly romanticized Jeanne d'Arc au siège d'Orléans by French painter Jules Eugène Lenepveu (1889). It is in the Panthéon de Paris.
Orléans, along with Rouen and Paris, was one of France's richest cities, situated at a strategic point on the Loire. When Joan of Arc liberated it from the English in 1429, she was thereafter known as la pucelle d'Orléans - the maid of Orléans - and remained identified with the city.