This article accompanies the fable
Voices and Saints
Saint Catherine of Alexandria


Below are paintings of Saint Catherine by Caravaggio (1598) and Jan van Eyck (1437) and (at bottom) Raphael (1507-8). The broken wheel is visible in all three paintings. But as the Tarot shows, the wheel is also a metaphor for Fate and Fortune and really we never escape it if we pursue worldly desires.
Saint Catherine is the original patron saint of philosophers and students, anorexics and bulimics, who struggle with that wheel. She developed a popular following during the Crusades, prior to her encounter with Joan of Arc and she merits a revival today. In the mean time, you can still visit her monastery at the base of Mt. Sinai, built by the Emperor Justinian in the year 530.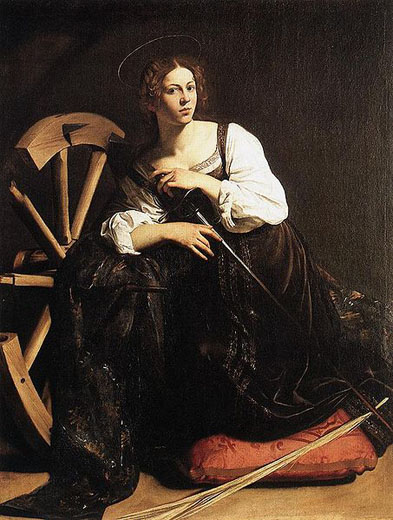 It has been speculated that the 12th century Saint Bernard of Clairvaux suffered from anorexia nervosa. He lived such an austere lifestyle - notably the "heroic fasting" - it does appear he was sick much of the time, which may have been the same thing.